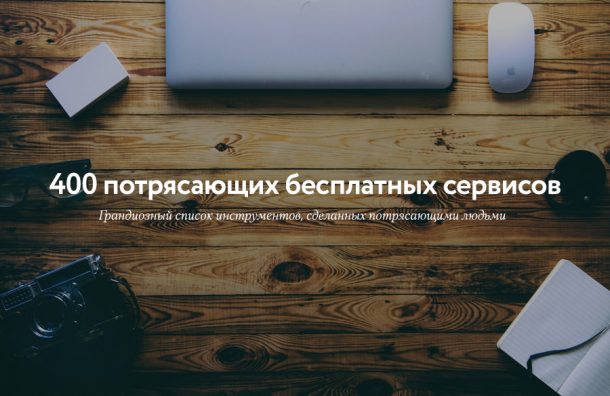 +400 Awesome Free Tools To Build Your Business
-> NEW – recently added <-
All Resources
-> Business <-
FREE WEBSITE
HTML5 UP: Responsive HTML5 and CSS3 site templates.
Bootswatch: Free themes for Bootstrap.
Templated: A collection of 845 free CSS & HTML5 site templates.
WordPress.org | WordPress.com: Create your new website for free.
Strikingly: Free, unlimited mobile optimized websites for strikingly domains.
Layers: A WordPress site builder so simple. It's free, forever.
Bootstrap Zero: The largest open-source, free Bootstrap template collection.
Landing Harbor: Promote your mobile app with a free landing page.
FREE BRANDING & LOGO
FREE INVOICE
FREE LEGAL DOCS
Kiss: Free legal docs for startup founders and investor.
Docracy: An open collection of free legal documents.
Shake: Create, sign and send legally binding agreements in seconds. Free for personal use.
FREE IDEA MANAGEMENT
FREE BUSINESS / PROJECT NAME GENERATORS
-> Marketing <-
FREE WRITING / BLOGGING
FIND (TRENDING) CONTENT (IDEAS)
FREE SEO + WEBSITE ANALYZERS
FREE IMAGE OPTIMIZERS
FREE IMAGE EDITORS
FREE EMAIL MANAGEMENT
FREE GUIDES & COURSES
FREE SOCIAL MEDIA + COMMUNITY MANAGEMENT
FREE CUSTOMER SERVICE & SURVEYS
A/B TESTS & GROWTH HACKING
-> Design & Code <-
FREE DESIGN RESOURCES
COLOR PICKERS
INSPIRATION
FREE STOCK PHOTOGRAPHY
FREE TYPOGRAPHY
FREE ICONS
FREE USEFUL STUFF
FREE DEVELOP / CODE THINGS
-> Productivity <-
BACKGROUND SOUND TO FOCUS
AVOID DISTRACTION
Self Control: Mac: free application to help you avoid distracting websites.
Cold Turkey: Windows: temporarily block yourself off of distracting websites.
ORGANIZE & COLLABORATE
DIGITAL NOMADS & REMOTE WORKING
-> Learn <-
DISCOVER TOOLS & STARTUPS
BUILD TOGETHER
LEARN
NEWSLETTERS THAT DON'T SUCK
USEFUL